Arjun Raj Receives NIH New Innovator Award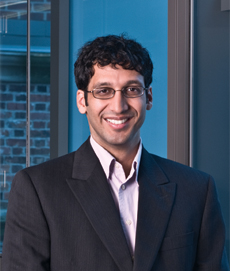 Arjun Raj, assistant professor in the Department of Bioengineering, is the recipient of the 2011 NIH New Innovator Award for his proposal "A Comprehensive Spatial Picture Of Transcription In The Nucleus." The award, providing $1.5 million over five years, supports the development and application of new microscopic imaging tools to reveal how the physical organization of the genetic code determines the manner in which the cell reads the code itself. The development of these methods will establish a "nuclear GPS," allowing researchers to directly visualize genetic organization in single cells. An understanding of this organization will be important for elucidating how defects in translating the genetic code contribute to such diseases as cancer.
"The NIH Director's Award programs reinvigorate the biomedical work force by providing unique opportunities to conduct research that is neither incremental nor conventional," said James M. Anderson, M.D., Ph.D., director of the Division of Program Coordination, Planning and Strategic Initiatives, who guides the Common Fund's High-Risk Research program. "The awards are intended to catalyze giant leaps forward for any area of biomedical research, allowing investigators to go in entirely new directions."
The New Innovator Awards are supported by the NIH Common Fund, which was enacted into law by Congress through the 2006 NIH Reform Act, which supports trans-NIH programs with a particular emphasis on innovation and risk taking. The NIH Common Fund encourages collaboration and supports a series of exceptionally high impact, trans-NIH programs. Common Fund programs are designed to pursue major opportunities and gaps in biomedical research that no single NIH Institute could tackle alone, but that the agency as a whole can address to make the biggest impact possible on the progress of medical research.
To read more about Raj and his research, please visit his faculty profile. Read the full Penn press release here.