Paulo Arratia Receives NSF CAREER AWARD
May 13, 2010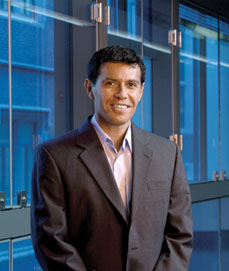 Paulo Arratia, Assistant Professor in the department of Mechanical Engineering and Applied Mechanics, has received a prestigious NSF CAREER award for his proposal, "Locomotion of Small Organisms in Complex Fluids." The CAREER award is the NSF's most prestigious award in support of junior faculty who exemplify the role of teacher-scholars through outstanding research, excellent education and the integration of education and research within the context of the mission of their organizations.
Arratia studies the behavior of complex fluids including polymeric solutions, colloidal suspensions, and blood flowing in micro- and nanofluidic devices. Such devices have the potential to produce and process small amounts of fluids with efficiency and speed, which can be used for rheology and production of nanoparticles. His research group also studies the interaction between the fluid and device length scales, which can give rise to a number of poorly understood phenomena, including changes in effective viscosity and slip effects.
Arratia's CAREER proposal will advance our understanding of the forces governing nematode motility in complex media including viscoelastic fluids and will enhance our ability to measure non-invasively the biomechanical and material properties of healthy and mutant nematodes carrying MD.
To read more about Arratia and his research, please visit his faculty profile.