Russell J. Composto Receives Geoffrey Marshall Mentoring Award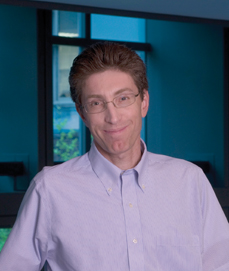 Russell J. Composto, professor in the Department of Materials Science and Engineering, is the recipient of the 2014 Geoffrey Marshall Mentoring Award from the Northeastern Association of Graduate Schools (NAGS). The Mentoring Award is given in memory of Geoffrey Marshall, former President of NAGS, for outstanding support of a graduate student or graduate students from course completion through research and placement.
Composto's Polymer Research Group is involved in polymer science and biomolecular engineering research. Interests extend to polymer surfaces and interfaces, adhesion and diffusion, and nanocomposite polymer blend and copolymer films. The group's biomaterials work centers around manipulating the surface of polymers to elicit control over protein adsorption, as well as cell adhesion, orientation, and function, and has an active research program at the interface of polymer science and biomolecular engineering, which combines block copolymer self-assemble as a basis for orienting stiff biological molecules
The Northeastern Association of Graduate Schools (NAGS) is one of four regional affiliates of the Council of Graduate Schools (CGS). CGS is the only national organization in the United States that is dedicated solely to the advancement of graduate education and research and accomplishes its mission through advocacy in the policy arena, innovative research, and the development and dissemination of best practices.
To learn more about Composto and his research, view his faculty profile.