George Pappas Receives Ruberti Young Researcher Prize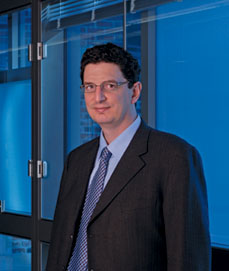 George J. Pappas, the Joseph Moore Professor of Electrical and Systems Engineering and Deputy Dean for Research at Penn Engineering, has been awarded the 2010 Antonio Ruberti Young Researcher Prize. This prize is awarded by the IEEE Control Systems Society to recognize contributions by a young researcher in the broad field of systems and control. The award will be presented during the CSS Awards Ceremony at the 2010 IEEE Conference on Decision and Control (CDC) in Atlanta, December 15-17, 2010.
A member of the faculty in the School of Engineering and Applied Science since 2000, Pappas' research creates methods for the control of next-generation hierarchical and distributed systems. His research group focuses on developing analysis and design algorithms and tools for hybrid systems, which merge control systems with computing systems. Their methods have been used in developing algorithms for coordinated motion of fleets of unmanned aerial vehicles and multi-robot systems, analyzing the safety of next generation medical devices, and understanding the macroscopic behavior of biological networks.
The IEEE is the world's largest technical society, bringing members access to the industry's most essential technical information, networking opportunities, career development tools, and many other exclusive benefits.
To read more about George Pappas and his research, please visit http://www.seas.upenn.edu/~pappasg/