Andreas Haeberlen Receives NSF CAREER Award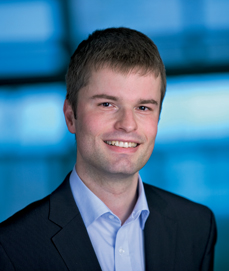 Andreas Haeberlen, the Raj and Neera Singh Assistant Professor in the department of Computer and Information Science, has received a NSF CAREER award for his proposal, "Evidence in Federated Distributed Systems." The CAREER award is the NSF's most prestigious award in support of junior faculty who exemplify the role of teacher-scholars through outstanding research, excellent education and the integration of education and research within the context of the mission of their organizations.
Haeberlen's research involves distributed systems, networking, and security. He is particularly interested in large-scale distributed systems that span multiple administrative domains, such as cloud computing platforms or the Internet's interdomain routing system. Recently he has been working on accountability for distributed systems, differential privacy, and Internet access networks.
The proposed research will strive to develop a reliable and general way to generate and verify evidence of misbehavior in federated systems, i.e., in systems that are operated jointly by multiple different organizations or individuals. In such systems, the interests of the participants are often highly diverse and/or in conflict with one another; for example, participants may be business competitors or based in hostile nations. This makes these systems inherently vulnerable to insider attacks. If evidence of misbehavior can be generated reliably, it becomes possible to handle such misbehavior by leveraging techniques from the 'offline world', e.g., by holding the participants accountable for their actions.
The project is integrated with Penn's new undergraduate program in Market and Social Systems Engineering. It will produce and freely distribute software that can be used to defend federated systems against attacks and malicious insiders.
To read more about Haeberlen and his research, please visit his faculty profile.