Zachary Ives Awarded a Lindback Award, Penn's Highest Teaching Award
April 20, 2010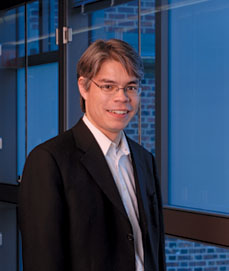 PHILADELPHIA –- Zachary Ives, Associate Professor in the department of Computer and Information Science, has been awarded a Christian R. and Mary F. Lindback Award for Distinguished Teaching, Penn's highest teaching honor.
Ives received his Bachelor of Science from Sonoma State University and his Ph.D. from the University of Washington. He has taught at Penn since 2003, and has since been a leader in curricular innovations, developing courses on Internet and database systems in which students build their own search engines or database-powered websites. "I never imagined an individual student could achieve so much," said one student. A recent alumnus who works at Google echoes, "there is not a day that goes by at my job that I do not take into consideration the skills and information that I learned in Professor Ives' class."
Ives' students and colleagues admire both his intellectual mastery (which he also applies as the undergraduate chair of the school's new program in Market and Social Systems Engineering) and his dedication to advising and mentoring students. "Professor Ives," in the words of one student, "cares tremendously about preparing his students for the outside world and, more important, helping them realize their power and potential. … I feel confident of tackling any challenge, academic or otherwise, and feel a sense of pride of being a student from the University of Pennsylvania."
Ives' research focuses on facilitating information sharing in today's Web and wireless worlds. He and his group are developing techniques for connecting different databases and applications together to them, regardless of possible variations and inconsistencies in terminologies or formats. They are also working on higher-level ways of programming large suites of heterogeneous sensor devices, and methods for automatically adapting these programs to target networks and devices. Ives' ultimate goal is to connect users or their applications with the data and in the format they need. To read more about Ives and his research, please visit his faculty profile.
The Lindback Awards for Distinguished Teaching at the University of Pennsylvania were established in 1961 with the help of the Christian R. and Mary F. Lindback Foundation. Christian Lindback was president and principal of Abbotts Dairies, Inc. and a trustee of Bucknell University. The Foundation established Lindback Awards for Distinguished Teaching at colleges and universities throughout the Abbotts Dairies, Inc.'s service area in New Jersey, Pennsylvania, Maryland, Delaware and Virginia. For more information on this year's awardees, please visit http://www.upenn.edu/almanac/volumes/v56/n30/awards.html#arts2.