Jason Burdick Receives Edward C. Nagy New Investigator Award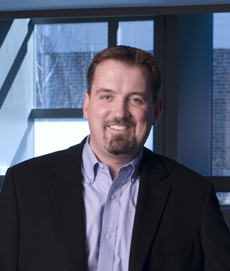 Jason A. Burdick, associate professor in the department of Bioengineering, has been selected as a recipient of the Edward C. Nagy New Investigator Award from the National Institute of Biomedical Imaging and Bioengineering (NIBIB).
The award will be presented at the first NIBIB Edward C. Nagy New Investigator Symposium on April 12, 2011 at the National Institutes of Health campus in Bethesda, Maryland. Burdick is part of a group of eight new investigators, chosen from a list of over 100 investigators, who have demonstrated outstanding, fresh, and innovative work in their fields. The award is named after Mr. Edward Nagy who was one of the driving forces in enacting legislation to create the NIBIB in 2000.
Burdick's research focuses on the use of a platform of biomaterials and specifically photocrosslinkable and degradable polymers to develop novel therapies for a range on tissue engineering application, including treatment for cartilage, meniscus and cardiac tissues. These polymeric systems act as carriers for growth factors and/or cells and are applied non-invasively to an injury site to lead to tissue regeneration. These materials also provide a range of signals that can control stem cell behavior, including differentiation. His newest findings hold the potential to become the preferred next generation therapeutic for patients with cartilage damage.
To read more about Burdick and his research, please visit his faculty profile.