Ali Jadbabaie to Lead $7.5 Million MURI Project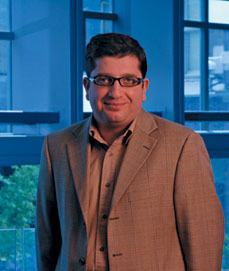 Ali Jadbabaie, professor in the Department of Electrical and Systems Engineering, is the recipient of a prestigious 2012 Multidisciplinary University Research Initiative (MURI) Award. His project, "Evolution of Cultural Norms and Dynamics of Socio-Political Change," will include collaborations with researchers at Cornell, MIT, Stanford and Georgia Tech. Funding for the project is $7.5 million over five years.
This project examines questions and challenges related to political change, social norms, cultural dynamics, and societal transformations. While advances in traditional game theory, political economy, development economics and political science have enabled analysts to provide a posteriori analysis, a rigorous study of the aforementioned issues requires a new set of theory, modeling, field experiments and algorithmic tools that are amenable to analysis of sociopolitical change. This project brings together a multidisciplinary team of experts from a diverse set of disciplines ranging from network science and systems theory to political science and political economy and economics to design an analytical framework for analysis and prediction of these socio-political phenomena.
The MURI program is sponsored by the Department of Defense and its efforts involve teams of researchers investigating high priority topics and opportunities that intersect more than one traditional technical discipline. Awards are granted to academic institutions to perform multidisciplinary basic research.
To read more aboutAli Jadbabaie and his research, please visit his faculty profile.