Daeyeon Lee Receives NSEF Young Investigator Award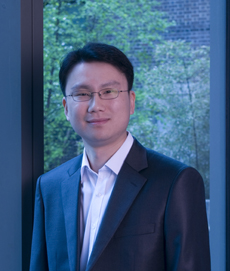 Daeyeon Lee, associate professor in the department of Chemical and Biomolecular Engineering, is the recipient of the 2013 Nanoscale Science & Engineering Forum Young Investigator Award from the American Institute of Chemical Engineers (AIChE). This award recognizes outstanding interdisciplinary research in nanoscience and nanotechnology by engineers or scientists in the early stages of their professional careers.
The vision of Lee's Soft Nanomaterials Lab is to develop deep understanding of the interactions between soft materials (e.g., polymers, colloids and biologicals, etc.) near or at interfaces. The Lab seeks to extend the obtained knowledge to direct the assembly of macroscopic structures that have designed properties and functionality. The major research efforts in the group include understanding the behavior of Janus particles at fluid interfaces, understanding and improving the assembly and mechanical properties of nanoparticle films, the generation of hierarchical structures using emulsions and bubbles as templates, and development of catalytic systems for biomass conversion.
The Nanoscale Science & Engineering Forum (NSEF) of the AIChE provides a forum for communication and networking among engineers and scientists who share interests in research and technology development at the atomic, molecular or macromolecular levels. This also includes chemical, biological, and materials processes and products. This division coordinates and sponsors relevant programming, including crosscutting and special-initiative technical sessions and conferences. This promotes the exchange of ideas, concepts, know-how, and experiences in nanotechnology. Further, the NSEF encourages educators at all levels, particularly in chemical engineering, to integrate concepts of nanoscale sciences and engineering in their curriculum. AIChE is the world's leading organization for chemical engineering professionals, with more than 40,000 members from over 90 countries.
To read more about Lee and his research, please visit his faculty profile.