Daeyeon Lee Receives Unilever Outstanding Young Investigator Award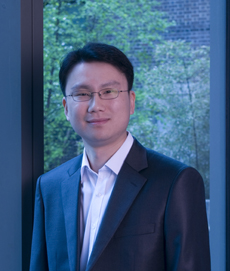 Daeyeon Lee, associate professor in the department of Chemical and Biomolecular Engineering, is the recipient of the 2014 Unilever Outstanding Young Investigator Award from the American Chemical Society (ACS) Division of Colloid and Surface Chemistry. This award recognizes and encourages fundamental work in colloid or surfactant science carried out in North America by researchers in the early stages of their careers.
The vision of Lee's Soft Nanomaterials Lab is to develop deep understanding of the interactions between soft materials (e.g., polymers, colloids and biologicals, etc.) near or at interfaces. The Lab seeks to extend the obtained knowledge to direct the assembly of macroscopic structures that have designed properties and functionality. The major research efforts in the group include understanding the behavior of Janus particles at fluid interfaces, understanding and improving the assembly and mechanical properties of nanoparticle films, the generation of hierarchical structures using emulsions and bubbles as templates, and development of catalytic systems for biomass conversion.
The Division of Colloid and Surface Chemistry is one of the most active Divisions in the ACS, with approximately 2500 members throughout the world. The goal of the Division is to promote creative research: the exchange of scientific information by and between members representing the various disciplines that make up the Division.
To read more about Lee and his research, please visit his faculty profile.