Alejandro Ribeiro Receives NSF CAREER Award
August 24, 2010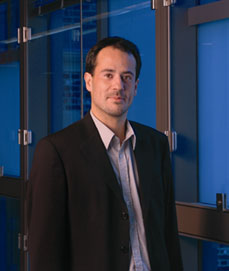 Alejandro Ribeiro, Assistant Professor in the department of Electrical and Systems Engineering, has received a prestigious NSF CAREER award for his proposal, "Towards a Formal Theory of Wireless Networking." The CAREER award is the NSF's most prestigious award in support of junior faculty who exemplify the role of teacher-scholars through outstanding research, excellent education and the integration of education and research within the context of the mission of their organizations.
Ribeiro believes that understanding networks, beyond wireless and communications, is one of the greatest intellectual challenges of the 21st century. Accordingly, his research is aimed at developing a theory to model and develop wireless networks. While communications are understood on a fundamental level, networks are not. Developing theoretical foundations of wireless networks will uncover fundamental properties to guide their design. In the end, the goal will be wireless networks that provide the same seamless connectivity we experience in our homes and offices.
Ribeiro's CAREER proposal will determine architectural properties of wireless networks, design algorithms to find optimal operating points for different types of physical layers, develop strategies to learn fading distributions and consider tradeoffs associated with acquisition of channel state information.
To read more about Ribeiro and his research, please visit his faculty profile.