Ben Taskar Awarded Sloan Research Fellowship
February 17, 2010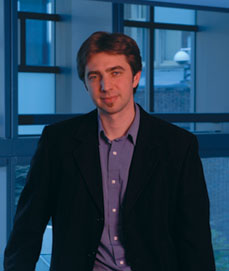 PHILADELPHIA –- Ben Taskar, the Magerman Term Assistant Professor in the department of Computer and Information Science, has been awarded a prestigious Sloan Research Fellowship. The Sloan Research Fellowships seek to stimulate fundamental research by early-career scientists and scholars of outstanding promise. These two-year fellowships are awarded yearly to 118 researchers in recognition of distinguished performance and a unique potential to make substantial contributions to their field.
Ben's research is focused on machine learning. He is interested in the design and analysis of data-centric algorithms that enable computers to tackle intelligent tasks, from machine translation and information extraction in natural language processing to object and action recognition in computer vision. Blending ideas from probability and statistics, discrete and continuous optimization, linguistic and perception theory, Ben's research aims to create drastically more accurate and robust systems that can sense, reason and act under real world uncertainty and ambiguity.To learn more about Ben and his research, visit his faculty profile.
To read more about this year's awardees or the fellowship program, visit http://www.sloan.org/fellowships.