Andrew Tsourkas Receives NSF CAREER AWARD
February 10, 2010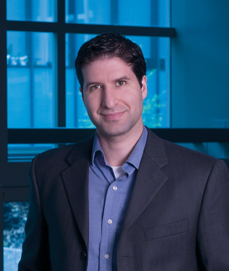 Andrew Tsourkas, Stephenson Foundation Term Assistant Professor in the department of Bioengineering, has received a prestigious NSF CAREER award for his proposal, "Molecular Imaging Training Program." The CAREER award is the NSF's most prestigious award in support of junior faculty who exemplify the role of teacher-scholars through outstanding research, excellent education and the integration of education and research within the context of the mission of their organizations.
Tsourkas' research is focused on developing nanosensors that can be used to non-invasively image molecular markers of disease in a clinical setting. These imaging agents will allow for more informed diagnoses, detect diseases at an earlier stage, and provide a mechanism to quantify therapeutic response. His research group has developed fluorescent probes for imaging RNA, bioluminescent probes for imaging apoptosis and proliferation, and magnetic nanoparticles for imaging cell surface receptor expression.
Tsourkas' CAREER proposal will establish a synergistic, multidisciplinary research and educational program for undergraduate and graduate students that will provide direct links between classroom education, independent research, and teaching. The underlying theme for this program will be "Molecular Imaging" and it will integrate both lecture- and laboratory-based learning.
To read more about Tsourkas and his research, please visit his faculty profile.