John Vohs Receives Heilmeier Research Award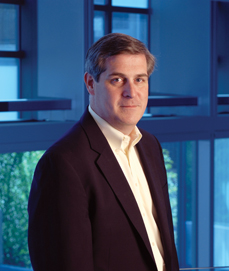 John M. Vohs, Carl V. S. Patterson Professor in the Department of Chemical and Biomolecular Engineering, has been named the recipient of the 2013-14 George H. Heilmeier Faculty Award for Excellence in Research for "major impact in the fields of surface science and catalysis, especially the surface science of metal oxides."

The Heilmeier Award honors a Penn Engineering faculty member whose work is scientifically meritorious and has high technological impact and visibility. It is named for George H. Heilmeier, a Penn Engineering alumnus and overseer whose technological contributions include the development of liquid crystal displays and whose honors include the National Medal of Science and Kyoto Prize.
Vohs holds a Bachelor of Science from the University of Illinois and a Ph.D. from the University of Delaware, both in Chemical Engineering. He joined the faculty at the University of Pennsylvania in 1989.
Vohs has been the recipient of numerous awards including the American Chemical Society's Victor K. LaMer Award, the National Science Foundation's Presidential Young Investigator Award, a Union Carbide Research Innovation Award, and the Catalysis Club of Philadelphia Award. He has authored more than 280 publications and holds seven U.S. Patents.
His research interests are in the areas of surface science, catalysis, and solid oxide fuel cells. The Vohs Lab specializes in elucidating structure-activity relationships for a variety of catalytic materials, including metals and metal oxides, and the development of anodes and cathodes for solid oxide fuel cells and electrolyzers. Current research topics in the lab include understanding the catalytic pathways for the reforming of bio-derived molecules, such as ethanol and glucose, to produce hydrogen and fuels, and using electrochemical techniques to characterize fuel cell and other catalysts.
Vohs will deliver the Heilmeier Research Award Lecture entitled "Nano-Structured Catalysts for Chemical Transformations" on Wednesday, February 26, 2014 at 3:00 p.m. in Wu and Chen Auditorium. To learn more about Vohs and his research, visit his faculty research profile.