Beth Winkelstein Named AIMBE Fellow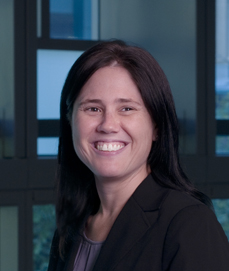 Beth Winkelstein, professor in the Department of Bioengineering and Associate Dean for Undergraduate Education, has been named Fellow of the American Institute for Medical and Biological Engineering (AIMBE) for the class of 2013.
The AIMBE is the leading advocacy group for medical and biological engineering, comprised of the field's 1,000 top practitioners in academia, industry and government. Founded in 1991, AIMBE has earned a reputation as a prestigious public policy leader, regarded by key legislators as the field's preeminent voice. The nearly 1,000 members of AIMBE's College of Fellows work daily throughout the technical and management spheres of medicine, academia, industry and government, leading the way in technological advancement, advocating for public policies that facilitate further progress and preparing young scientists and engineers to build on that progress in the decades to come.
The broad goal of Winkelstein's research is to understand the mechanisms of injury that produce whiplash, sports-related, and other painful injuries. By combining biomechanical and immunological techniques, her lab can define the relationships between injury to the cervical spine/neck and physiological cascades of persistent pain. Particular emphasis is placed on understanding injury to individual structures in the neck, such as the facet joints, nerve roots and spinal cord and how mechanical loading to these structures elicits pain. Through this work she can begin to develop thresholds for mechanical injury that produce persistent pain; and work towards a definition of the neck's tolerance for painful injury. Additional research efforts are aimed at understanding the role of biomechanics in the neuroimmunologic changes of the central nervous system that contribute to persistent pain. Applications of her current work are in the areas of automotive and whiplash-related injury and sports injuries and have implications for design efforts in automobiles that are aimed at preventing whiplash injuries. To learn more about Winkelstein and her research, visit her faculty profile.
To learn more about the AIMBE, visit http://www.aimbe.org/index.php