BE210: Bioengineering Laboratory II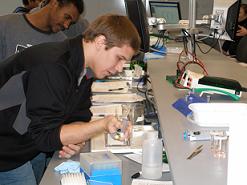 BE210 is a sophomore-level laboratory course covering applications related to molecular biology and microfluidics. Strong emphasis is placed on instrumentation, measurement, data analysis methods and research design. Students will also learn to use MATLAB for analysis of their data.
Students taking BE210 are required to have completed BE200 (Introduction to Biomechanics and Biomaterials), BE209 (Bioengineering Laboratory I) and have completed or be taking concurrently, Math 241 (Calculus IV).
Time: Monday/Tuesday 12-6pm during the Spring Semester.
2011 Course Instructors:

Web site: Click here to go to the course web site. It is restricted to students enrolled in the course.
Pictures: Click here to see pictures from previous years.
Lab Projects: Click here to see previous year lab projects.