The Burns Family of Lansdowne, PA

---
Welcome to my Personal Homepage.
You'll perhaps learn a little about me here. First let me introduce my family.
Pat,The Better Half!
Elizabeth Patricia
Children never stay young, they are always growing...........
(most recent pictures on the right)
For "The Big Picture" click here: Burns Family
We are the Burns' of Lansdowne. Pat and I have been married for a little over ten years and have called Lansdowne home for nine. It's a beautiful community with a lot to do!
---
GOD
We have recently found a church to call home. The First Baptist Church of Collingdale. Actually, its a home coming of sorts for me as I attended this church while a child and young adult. In the Spring, 1998 I was baptised and became a member. Pat was baptised in December 1998 and became a member this past spring. Its a loving, God centered, bible teaching church. Serving our Savior in various capacities brings real joy to our hearts. Pat and I are involved in our Sunday School Class (The Steadfast Class), Pat is co-Director of a ministry involving Home Schoolers, Bill is in the choir and helps with music and the girls enjoy learning. Wednesday nights are Family Nights at First Baptist! Pat and Elizabeth enjoy time together and with other girls at Reflections "Girls Club." Ages are Kindergarten thru age 12. I am helping most Wednesday nights with the Trackers Program we recently created. The program is for boys from age 5 on up to 12 years also. The teens have activities as a group elsewhere in the church building and the adults not involved in these youth ministries are in yet another part of the building enjoying Prayer Meeting. Things are busy, yet very exciting. The place is a virtual bee-hive of activity. All activities are open to everyone!
Come join the fun!

Matthew 5: 14-16 "You are the light of the world. A city on a hill cannot be hidden. Neither do people light a lamp and put it under a bowl. Instead they put it on its stand, and it gives light to everyone in the house. In the same way, let your light shine before men, that they may see your good deeds and praise your Father in heaven.

Check out these sights. You may find them helpful.


Our Daily Bread;

Bible Gateway;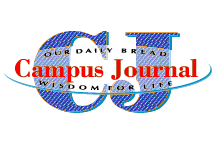 Campus Journal
---
---
Other Areas of my Life:

Collingdale High School Alumni Association: After church and family, the Collingdale High School Alumni Association takes up a bit of our time. While the High School itself no longer exists, the alumni are still a very active group. TheColHums(their newsletter) is mailed three times a year to over 3,500 people across the country and around the world. We meet nine times a year and have an all classes Grand Reunion every three years. One of our most important activities is our annual scholarship program. To learn more "click" on the seal at the left.

---
---
WORK!
I work for the University of Pennsylvania -

School of Engineering and Applied Science -

---
Thanks for visiting!
Last updated 8/3/99.