Let's Go Flying!
(UNDER CONSTRUCTION! Watch out for bumps, etc...)

Did you know that I was the Youngest Pilot in the USA? That was more than 20 years ago, back when my entire training cost $640. Today the cost of training is up over $3000.

Usually I fly the Cessna Skyhawk: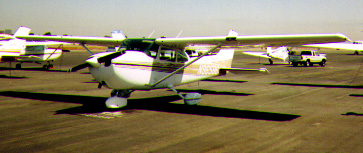 After being out of production for XX years, Cessna has started building NEW Skyhawks.
I fly out of Philadelphia Northeast airport, from Hortman Aviation. A cool magazine for pilots is Northeast Weekend Flyers. Next time you're in Florida, south of Orlando, check out Fantasy of Flight. To read about flying "in the old days," visit Plane Writing.

---
Here are some cool Hang Gliding links...
---
Halfway between simulators and flying real planes are MODEL AIRPLANES. For more info, check out the Academy of Model Aeronautics. If you need to buy something for RC, check out Tower Hobbies.
---
pws@eniac.seas.upenn.edu