Casim Sarkar Receives NSF CAREER Award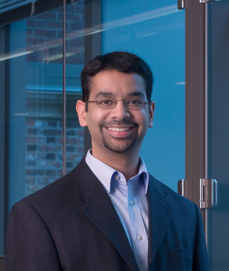 Casim Sarkar, assistant professor in the departments of Bioengineering and Chemical and Biomolecular Engineering, has received a NSF CAREER Award for his proposal, "Engineering Biomolecules and Cells for Oral Protein Delivery." The CAREER award is the NSF's most prestigious award in support of junior faculty who exemplify the role of teacher-scholars through outstanding research, excellent education and the integration of education and research within the context of the mission of their organizations.
Sarkar strives to elucidate fundamental principles that underlie individual biomolecular interactions and molecular networks within cells and to apply this knowledge to the design of new molecular and cellular therapeutics. His research couples techniques from the fields of molecular biology, protein biochemistry, microbiology, and mammalian cell biology with mathematical modeling, engineering analyses, and synthetic biology to develop quantitative, predictive frameworks for the biological processes that he interrogates. Current thrusts in Sarkar's laboratory include designing novel protein therapeutics, engineering cell biosensors, and dissecting signaling networks implicated in cell decision making.
Sarkar's CAREER proposal will establish a method to orally deliver recombinant forms of critically important therapeutic proteins. The idea of orally delivering such proteins is extremely attractive because this mode of administration is noninvasive, has higher patient compliance, and, in some cases, can more accurately mimic native physiology. The specific application will be to create novel proteins and cells that can be used to orally regulate glucose levels in diabetic patients. These same protein engineering and synthetic biology approaches will also form the basis for a broadly reaching educational and training platform.
To read more about Sarkar and his research, please visit his faculty profile.