Vijay Kumar Named a 2013-14 IIT Kanpur Distinguished Alumnus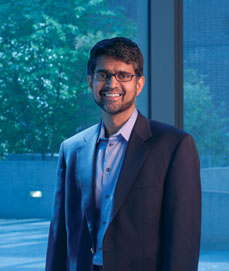 Vijay Kumar, UPS Foundation Professor and Professor of Mechanical Engineering and Applied Mechanics, has been named a 2013-14 Indian Institute of Technology (IIT) Kanpur Distinguished Alumnus. This award from IIT Kanpur is given to alumni for their exemplary achievements in their area of work.
The IIT Kanpur Alumni Association states, "Professor Vijay Kumar is one of the top roboticists of his generation. His fundamental contributions, which straddle both theory and practice, address the control and planning of multiple cooperating robot systems and autonomous robots capable of cooperating to explore, map and manipulate in 3D environments."

Kumar studies collective behaviors in biological and robotic systems to design novel architectures, create abstractions for systems of interacting individuals, and develop new algorithms for cooperating robots. The overarching themes in his research include modeling nature and developing bio-inspired architectures and algorithms, understanding group/individual dynamics, and the design and composition of controllers for robust, scaleable autonomous systems. Kumar is currently on sabbatical leave, serving as the Assistant Director for Robotics and Cyber Physical Systems at the White House Office of Science and Technology Policy.
To learn more about Kumar and his research, visit his faculty research profile.