Three Penn Engineers Receive 2016 NSF CAREER Awards
Penn Engineering assistant professors Danielle Bassett, Lee Bassett and David Issadore have each been selected to receive 2016 NSF CAREER Awards.
The CAREER Award is the NSF's most prestigious award in support of junior faculty who exemplify the role of teacher-scholars through outstanding research, excellent education and the integration of education and research within the context of the mission of their organizations.
Danielle Bassett
Skirkanich Assistant Professor of Innovation
Bioengineering
Electrical and Systems Engineering
Proposal Title: CAREER: Linking Graph Topology of Learned Information to Behavioral Variability via Dynamics of Functional Brain Network
Summary: The ability to learn relational data is critical to human life as we know it. By learning the relationships between syllables and words, or scientific and mathematical concepts, we produce language, form lexical knowledge, develop physical intuition, exercise logical deduction, and attain expertise in our line of work. Collectively, these relational data can be described as a graph in which nodes might represent syllables or concepts, and edges might represent shared content or conditional probabilities. Yet, how the organization of such a graph impacts our ability to learn the data or the neural processes that affect learning is far from understood. Progress has been stymied by the lack of quantitative tools to characterize the graph topology: the arrangement of nodes and edges. Here, we propose that network science offers a principled mathematical framework in which to study the human learning of relational patterns, and answer the question of whether graphs that are complex in the mathematical or naturalistic senses are more or less difficult to learn, or require different neural processes. We propose a 3-pronged approach that employs (i) engineering-based tools from network science to systematically define graph ensembles of relational information with dissociable topologies, (ii) behavioral studies to determine which graph topologies are easier or harder to learn, and (iii) functional neuroimaging to identify predictors of individual differences in learning. Exploratory work seeks to translate the knowledge gained in these areas to instructed learning of scientific concepts. In this proposal, the PI brings together her background in theoretical physics and network science, her expertise in multimodal human neuroimaging, her current research program intersecting engineering and cognitive neuroscience, and her recently developed methods to predict individual differences in learning from the dynamics of human brain functional connectivity to determine how the graph topology of relational information maps to individual differences in human learning behavior as produced by dissociable neurophysiological processes.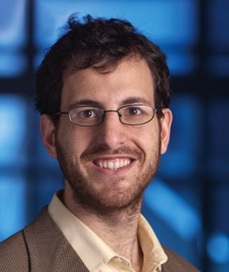 David Issadore
Assistant Professor
Bioengineering
Electrical and Systems Engineering

Proposal Title: CAREER: Time-domain encoded optofluidics for highly multiplexed pathogen detection
Summary: Digital assays — in which ultra-sensitive molecular measurements are made by performing millions of parallel experiments in picoliter droplets — have generated much recent enthusiasm due to their single molecule resolution and robustness to reaction conditions. These assays have enormous untapped potential for disease diagnostics, environmental surveillance, and biosafety monitoring, but are currently confined to laboratory settings due to the instrumentation necessary to generate, control, and measure tens of millions of independent droplets. To overcome this challenge, we propose a hybrid microelectronic / microfluidic chip to 'unlock' droplet-based assays for mobile use. Our microDroplet Fluorescence Detector (microDFD) takes inspiration from cellular networks, in which phones are identified by their carrier frequency and not their particular location. In the same way, we will monitor multiple streams of fluorescent droplets using a single photodetector. Our key innovation is amplitude modulation of the signal from fluorescent droplets using distinct micro-patterned masks for each channel. By taking advantage of the high bandwidth of electronics and ubiquitously available cloud computing, our platform can be implemented as a mobile device without lasers, bulky optics, or complex fluid control.
To demonstrate the power of our approach, we focus on access to clean drinking water, and in particular on the currently intractable problem of detecting water-borne pathogens in resource limited settings. In a world where 1 billion people lack reliable access to clean drinking water, our approach has enormous potential to address this global inequity. The basis of our detection technique is digital polymerase chain reaction (dPCR), where DNA is detected within individual picoliter sized droplets and the number of target molecules of DNA is quantified by counting fluorescent droplets. We aim to outperform conventional culture-based testing (limit of detection<10 pathogens/mL) while reducing assay time from >48 hours to< 30 minutes. Because our mobile platform will be inexpensive and self-contained, it also addresses an important practical challenge: it can provide real-time feedback on water safety to those in resource-limited settings, eliminating sample transport to a laboratory.
Lee Bassett
Assistant Professor
Electrical and Systems Engineering
Proposal Title: CAREER: Coupling Spin, Light, and Charge for Quantum Information
Processing and Storage in Diamond
Summary: Atom-scale defects in semiconductors – long the bane of conventional integrated electronic devices – could actually form the basis for new generations of devices that harness quantum mechanical effects to achieve transformational new functionalities. Select types of impurities, known as defect spins, exhibit desirable quantum features in room-temperature devices amenable to integration and miniaturization. These defects respond to electric, magnetic, and optical fields, and they can be embedded in biocompatible nanoparticles to serve as quantum probes with nanometer precision. The purpose of this CAREER project is to explore new ways to control defect spins in diamond, in order to realize practical technologies for quantum information processing and quantum sensing. Specifically, this project aims to (i) demonstrate a new approach to probing diamond spins with light that dramatically boosts their functionality as quantum bits and quantum probes and (ii) isolate and manipulate coupled impurity spins that could serve as quantum memory bits with lifetimes measured in days at room temperature, improving over the state of the art by many orders of magnitude. These elements will form critical components for quantum computers, secure quantum communication links, and other chip-scale quantum technologies. The project further incorporates broad educational goals to promote the emerging domain of quantum engineering, which breaks traditional boundaries between disciplines such as atomic and solid-state physics, electrical engineering, materials science, chemistry, and biology. It will support the construction and deployment of hands-on demonstrations of quantum coherence, in which K-12 students and the general public can actually see quantum physics with their naked eyes in room-temperature devices.
To read the NSF's official release click here.