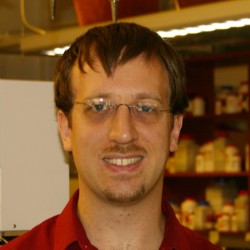 Paul Riley, Ph.D.

Institute for Medicine and Engineering
University of Pennsylvania
Vagelos Research Labs
3340 Smith Walk
Philadelphia, PA 19104
Tel: 215-573-3025
Email:rileypw@seas.upenn.edu
Education
B.S. Biochemistry, Seattle University, 1996
Ph.D. Biochemistry, Temple University School of Medicine, 2006
Research Projects
High Throughput Screening for Inhibitors of Proteases Involved in Pathologies of the Blood and Skin
Factor XIa (FXIa) and factor XIIa (FXIIa): FXIa and FXIIa are blood coagulation enzymes involved in activation of downstream zymogens leading to thrombin production. While the exact in vivo role of FXIIa is unclear, it has been shown to be a risk factor for pathologic thrombus formation, as is FXIa. Thus, these two enzymes may play roles in fine regulation of coagulation processes and present as attractive targets for anticoagulant therapy.
Human kallikrein 5 (hK5): hK5 is highly expressed in skin tissue, specifically the outermost layer of the skin, the stratum corneum. Recently, hK5 was found to be involved in the common, chronic skin condition rosacea. This condition involves dilation of blood vessels near the surface of the skin, resulting in erythema accompanied by visible blood vessels along the middle of the face. Isolation of inhibitors against hK5, as well as other proteases from the skin,
could allow for development of a therapeutic topical agent that would alleviate rosacea.
High throughput screening (HTS) was performed against the three enzymes above using ~218,000 compounds of the NIH Molecular Libraries Screening Centers Network (MLSCN) library plated into 1536 compound plates. Compounds exhibiting percent inhibitions in 1536 assay plates of >40% were further tested by dose-response assays in 384 well plates.