| | |
| --- | --- |
| | Metallo-Organic Pharmacophores |
Metallo-Organic Synthesis: Eric Meggers, Ph.D.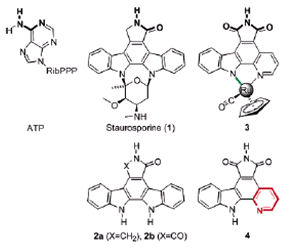 Metallo-organic compounds have Lipinski properties that are entirely dependent upon the coordinated ligands. The metallo-chemical bond is as strong as a covalent bond; they do not "fall" apart. These compounds are designed to be hydrophobic and can pass through cellular membranes. The rigidity of metallo-organics is potentially the source of their amazing specificity. These ruthenium coordinated compounds behave like organic compounds in every respect but they open new opportunities for accessing rigid globular structures in an economical fashion. The metal center is not involved in any interactions with the environment. Space filling models demonstrate that the metal is not accessible and completely buried in the center of the molecule. In addition, rapid ligand scanning around a metal center can be used as a drug discovery tool. It allows the Penn Center for Molecular Discovery to quickly access unexplored chemical space and to rapidly identify new biological active and unique structures.

Most of the metal complexes are very rigid and it can therefore be predicted with high confidence in what conformation they bind to the active site. Thus, these metal complexes can be considered imprints of the active site and are therefore useful starting points for cheminformatics and the design of related purely organic compounds. The Meggers Lab has recently demonstrated that properly designed ruthenium compounds can enter mammalian cells and inhibit the protein kinase GSK-3 without displaying cytotoxicity even at higher micromolar concentrations. Furthermore, the comparison of the potency in cell-based assays surpasses significantly the activity of know organic GSK-3 inhibitors (kenpaullone, 6-bromoindirubin-3'-oxime).