Coagulation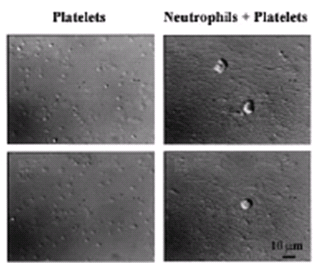 Blood coagulation is an example of time-evolving, heterotypic deposition/aggregation/fragmentation of reactive cells under flow which in turn trigger the polymerization of the fibrinogen monomer. Our laboratory is interested in inflammation-coagulation crosstalk. These studies have investigated:
Neutrophil proteases as triggers of thrombosis
Factor VIIa function on platelets
High throughput phenotyping of human blood
Substrate mapping of coagulation proteases
We examined the effect of adherent neutrophils on fibrin deposition under laminar flow conditions. Perfusion of recalcified citrated platelet-free plasma (PFP) over neutrophils adherent to fibrinogen-coated glass at a venous wall shear rate of 62.5 1/sec for 15 minutes resulted in dense deposition of fibrin around each neutrophil, whereas fibrin deposition on glass alone was sparse. Direct visualization of fibrin capture by neutrophils and elimination of fibrin deposition at 15 minutes by a factor XIIa inhibitor (corn trypsin inhibitor [CTI]) or elastase/cathepsin G inhibitors indicated that neutrophils can capture short fibrin strands flowing in recalcified PFP lacking CTI and can also promote thrombin generation through pathways attenuated by inhibitors of factor XIIa, elastase, and cathepsin G. When neutrophils were allowed to interact with platelets on a fibrinogen surface before perfusion of recalcified CTI-treated PFP, the fibrin deposition was observed to be dramatic compared with that over surfaces coated with platelets alone or neutrophils alone and compared with that formed on platelets adherent to collagen. This neutrophil promotion of platelet-mediated fibrin formation was attenuated by inhibitors of elastase or cathepsin G but not anti–tissue factor antibody. Neutrophils can interact with platelets via released proteases to increase platelet procoagulant activity and fibrin formation in CTI-treated plasma under the low-flow conditions expected in venous thrombosis or inflammation.

Publications

S.L. Diamond. Reaction complexity in flowing human blood. Biophysical J. 80, 1031(2001).

M. Goel, S.L. Diamond. Neutrophil enhancement of fibrin deposition under flow though platelet-independent and platelet-dependent mechanisms. Arteriol. Thromb. Vasc. Biol. 21, 2093 (2001).

M.Goel, S.L. Diamond. Neutrophil cathepsin G enhances prothrombinase and fibrin formation under flow by activating fibrinogen-adherent platelets. J. Biol. Chem. 278, 9458 (2003).

M. Goel, S. L. Diamond. Factor VIIa-mediated tenase function on activated platelets under flow. J. Thromb. Haem. 2:1402 (2004).

D. M. Eckmann, S.L. Diamond. Surfactants attenuate gas embolism-induced thrombin production. Anesthesiology 100, 77 (2004).

M. Goel, S. L. Diamond. Thrombosis. Encyclopedia of Biomaterials and Biomedical Engineering. Eds. G. E. Wnek, G. L. Bowlin. Marcel Dekker. (2004).

K. Lo and S. L. Diamond. Blood coagulation kinetics: High throughput method for realtime reaction monitoring. Thromb. Haem. 92:874 (2004).

Lo K, Denney WS, Diamond SL: Stochastic modeling of blood coagulation initiation. Pathophysiol Haemost Thromb 2005, 34:80-90.

Gosalia DN, Salisbury CM, Maly DJ, Ellman JA, Diamond SL: Profiling serine protease substrate specificity with solution phase fluorogenic peptide microarrays. Proteomics 2005, 5:1292-1298.

Gosalia DN, Salisbury CM, Ellman JA, Diamond SL: High throughput substrate specificity profiling of serine and cysteine proteases using solution-phase fluorogenic peptide microarrays. Mol Cell Proteomics 2005, 4:626-636.

Gosalia DN, Denney WS, Salisbury CM, Ellman JA, Diamond SL: Functional phenotyping of human plasma using a 361-fluorogenic substrate biosensing microarray. Biotechnol Bioeng 2006, 94:1099-1110.

Okorie UM, Diamond SL: Matrix protein microarrays for spatially and compositionally controlled microspot thrombosis under laminar flow. Biophys J. 2006 Nov 1;91(9):3474-81.

Neeves KB, Diamond SL. A membrane-based microfluidic device for controlling the flux of platelet agonists into flowing blood. Lab Chip. 2008 May;8(5):701-9. Epub 2008 Apr 3.

Okorie UM, Denney WS, Chatterjee MS, Neeves KB, Diamond SL. Determination of surface tissue factor thresholds that trigger coagulation at venous and arterial shear rates: amplification of 100 fM circulating tissue factor requires flow. Blood. 2008 Apr 1;111(7):3507-13. Epub 2008 Jan 18.

Purvis JE, Chatterjee MS, Brass LF, Diamond SL. A molecular signaling model of platelet phosphoinositide and calcium regulation during homeostasis and P2Y1 activation. Blood. 2008 Jul 2.

Flamm, M. H., S. L. Diamond and T. Sinno (2009). Lattice kinetic Monte Carlo simulations of convective-diffusive systems. The Journal of Chemical Physics 130(9): 094904-7.

Schmaier AA, Zou Z, Kazlauskas A, Emert-Sedlak L, Fong KP, Neeves KB, Maloney SF, Diamond SL, Kunapuli SP, Ware J, Brass LF, Smithgall TE, Saksela K, Kahn ML. Molecular priming of Lyn by GPVI enables an immune receptor to adopt a hemostatic role. Proc Natl Acad Sci U S A. 2009 Dec 15;106(50):21167-72. Epub 2009 Nov 25.

Stalker TJ, Wu J, Morgans A, Traxler EA, Wang L, Chatterjee MS, Lee D, Quertermous T, Hall RA, Hammer DA, Diamond SL, Brass LF. Endothelial cell specific adhesion molecule (ESAM) localizes to platelet-platelet contacts and regulates thrombus formation in vivo. J Thromb Haemost. 2009 Nov;7(11):1886-96. Epub 2009 Sep 9.

Zhu L, Stalker TJ, Fong KP, Jiang H, Tran A, Crichton I, Lee EK, Neeves KB, Maloney SF, Kikutani H, Kumanogoh A, Pure E, Diamond SL, Brass LF. Disruption of SEMA4D ameliorates platelet hypersensitivity in dyslipidemia and confers protection against the development of atherosclerosis. Arterioscler Thromb Vasc Biol. 2009 Jul;29(7):1039-45. Epub 2009 Apr 23.

Diamond SL. Systems biology to predict blood function. J Thromb Haemost. 2009 Jul;7 Suppl 1:177-80. Review.